After receiving a grim diagnosis while their child was in utero, Baby Shane's parents made each precious moment count Maryann Gogniat Eidemiller OSV Newsweekly –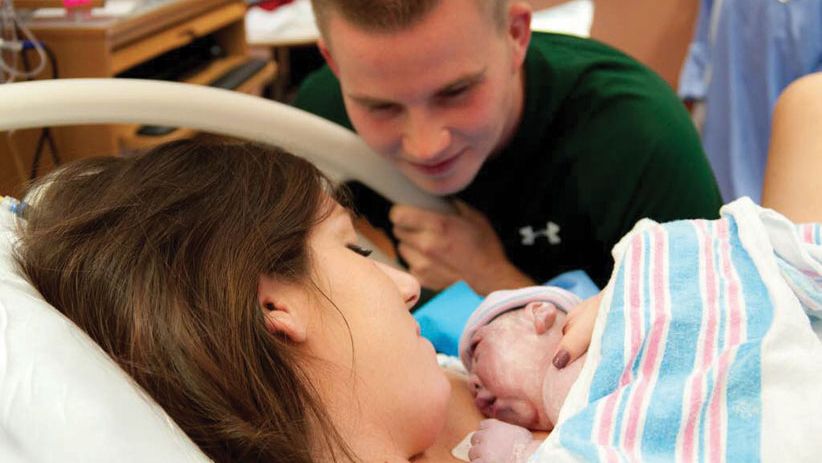 Daniel Haley looks on as Jenna Gassew holds their baby, Shane Michael Haley, who was diagnosed with anencephaly in utero. He was born Oct. 9 and lived for only four hours.
An ultrasound on April 10, 2014, changed everything that Jenna Gassew and Daniel Haley hoped and dreamed for their baby. At 13 weeks into the pregnancy, the doctor discovered their son had an incurable neural tube birth defect and could not survive. She told Gassew, "Most people choose to terminate."
An abortion was out of the question for the Catholic couple who firmly support the sanctity of life. Gassew didn't even have a chance to convey that to the doctor because her mother, who had accompanied her because Haley could not be there, knew her well enough to protest. "She's pro-life. She's not going to do that."
The doctor wrote "anencephaly" on a piece of paper and gave it to Gassew.
"I remember sitting in the parking lot crying," she told Our Sunday Visitor in an interview from her home near Philadelphia. "I was wrapping my head around how to tell Dan. When he came home later, I explained it to him, and it was the toughest thing I had to do."
Together, they chose life for Shane Michael Haley, however short that life would be.
Unconditional love
They looked up anencephaly and learned that in this condition, part or most of the brain is missing and so is the vault of the cranium above the eyebrows.
They saw images and insensitive descriptions that Gassew called "disturbing and offensive."
Then they found the website anencephaly.info, where families shared their stories and pictures and offered each other support.
"That gave us hope and reminded us that no matter what our baby has, we love him unconditionally," Gassew said. "Dan said it right away — we weren't going to love him any less, and we didn't want him to be treated like anything other than our baby. We would be the proudest parents, no matter what."
Her faith was shaken, she said, but she didn't question God.
"It shook me in a good way and opened my eyes to a lot," Gassew said. "When you look back and question things and try to sort things out, it helps your faith. He was our son, and how do we continue to go on when our world kind of ended, but you know that the world keeps on going? How do we cope with this?"
They did it by finding new ways to embrace the blessings that were given to them, along with the challenges.
Strength in faith
The ultrasound had come on the same day they had been planning to announce their pregnancy. Now they needed a different way to say it.
"What was I supposed to do?" Gassew said. "How am I going to tell people that we are expecting and that our baby needs so many prayers? Some people didn't understand and said he would be born and get better, and that he would live with it. They didn't know it was fatal."
According to the website she found, about 7 percent of babies with anencephaly die during the pregnancy, 20 percent die during delivery, 50 percent will live between a few minutes and a day, and 23 percent live more than one day. In rare instances — and her obstetrician had one such case — the baby can live for weeks or even months. But the loss was inevitable.
"Some people said to us, 'You're going to be having a child that you know is going to die. That's not good for you,'" Gassew said. "Our answer to them, every single time, was that we are parents, and I knew that I was going to protect him in my womb as long as I could. We did what we could for our child, and that's what worked."
They were able to move ahead with love, with the strength they found in their faith and the support from loved ones.
"Why go on mourning after the diagnosis when Shane was still very much alive?" Gassew said. "That's when we decided we were going to start a journey together, as a family."
Celebration of life
So they created Shane's bucket list — all the things they wanted to do with their baby. First stop was Rehoboth Beach in Delaware, then a zoo in New Jersey and trips to parks, sports games, parties and family events.
They shared their adventures on Facebook, and people from around the world joined them and waited to welcome the tiny miracle. In time, Prayers For Shane drew more than 940,000 people who followed the family's joyful journey. It also was an opportunity for the couple to raise awareness of anencephaly and to make known that there is support for parents of these babies.
RaeAnne Fredrickson, with husband Bryan, delivered Samuel Evan in 2012. See sidebar story. Photo courtesy of Kimberly Schroeder Photography –
An online article and TV coverage about them brought more response, and Gassew was overwhelmed with the recognition. "Never in a million years did I imagine our son's life touching these many lives," she said.
Shane was born at 2:24 a.m. Oct. 9. He cried and he swallowed when the doctors said he wouldn't, and the couple prayed that he would be one of the rare ones who went home.
He wasn't. Shane died at 6:15 a.m. after spending all four hours of his life being loved and held by his parents, and in the company of his grandparents, aunts and uncles — a total of 23 people who came to meet him and to say goodbye. A priest baptized him into the Catholic Faith, and a volunteer from the nationwide network of photographers, Now I Lay Me Down to Sleep, took treasured photos.
The sad ending was also a beginning that filled the couple with the joy that came from their unwavering decision in favor of their son.
"All my life I wanted to be a mom, and even though I don't have Shane with me, that still doesn't take away from me being a mom," Gassew said. "But now it's definitely a different role, and it's very hard to figure out how to go about with not having him here. Shane taught us that each day is a gift and there is truly no foot too small that it cannot leave an imprint on this world. We are so proud of him."
Maryann Gogniat Eidemiller writes from Pennsylvania.
All That Love Can Do
When RaeAnne Fredrickson and her husband, Bryan, learned that their unborn baby had a fatal condition, the doctor asked, "When do you want to terminate?"
That option was not compatible with their Christian faith, and she was stunned by the suggestion to just "try again," as if the baby she was carrying didn't matter.
Their baby, Samuel Evan, did matter, and so do the lives of thousands of babies whose mothers have turned to Fredrickson's online support group, All That Love Can Do (allthatlovecando.blogspot.ca), for families who continue their pregnancies after fatal diagnoses. Jenna Gassew, mother of Baby Shane, is one of the contributing writers.
"There's so much pressure to terminate and so few resources for parents," Fredrickson said. "I wanted to focus on the fact that your baby is going to die anyway and you're going to have to deal with that grief, but you can make the decision to have joy in your story and not just the heartache. You can make special memories with your baby in the short time that you have."
Fredrickson, 32, started her blog, The Love We Carry, to record the couple's journey with their son, who was diagnosed at 15 weeks with the most severe form of posterior urethral valve. The condition causes renal failure and undeveloped lungs. They bonded with him, made memories for themselves and learned that carrying to term is "the hardest thing you will ever do, and also one of the most beautiful things you will ever do."
Samuel was born at 35 weeks on April 14, 2012, and he was fighting so hard to live that he was flown to another hospital for specialized treatment. He didn't make it.
"All That Love Can Do is an extension of his story," Fredrickson said. "He's not here, but his story and the legacy that he left behind is what I can do as his mother. I put my energy into loving him by helping other women who are walking this path."
She also writes for stillstandingmag.com, an online grief support magazine, and on Mother's Day she is launching stillmothers.com for women who have lost children.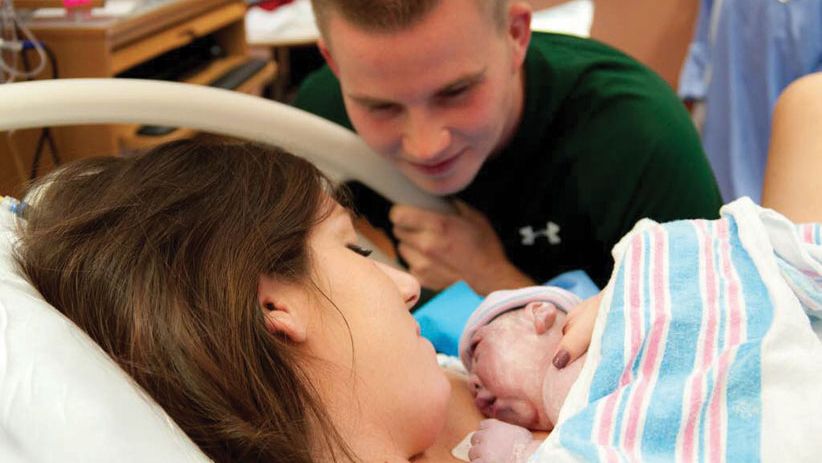 Daniel Haley looks on as Jenna Gassew holds their baby, Shane Michael Haley, who was diagnosed with anencephaly in utero. He was born Oct. 9 and lived for only four hours. Courtesy photo
Tags: Life Issues, Parenting, Family, Struggles, Illness
---
---
---