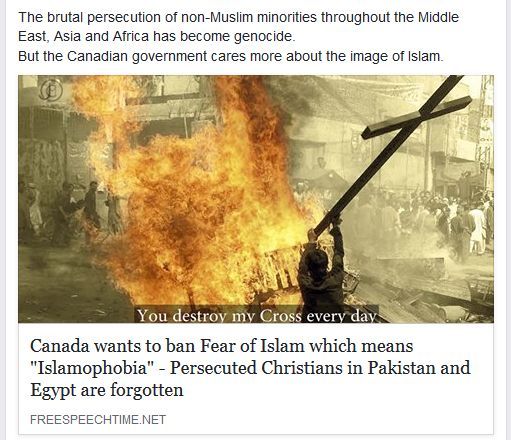 We must never forget about the persecuted Christians in the Muslim world.
There is an attempt in the West to criminalize criticism of Islam.
The Canadian prime minister wants to ban "Islamophobia" which means fear of Islam.
It will soon be a crime in Canada to talk about the brutal persecution of Christians by Muslims in the Muslim world under sharia law.
Christians in the Muslim world live in constant fear and no one in the media or even in the UN seems to care.
Christians in Pakistan, Egypt, Iraq, Syria and Iran are attacked daily and no one hears about it.
Christians are the world's most persecuted religious group, but the media ignores it in order not to harm the image of Islam.
Why doesn't the world seem to care when Christians die?
Why is it that When Christians are murdered and persecuted en masse, no one seems to care — not even other Christians?
If you want to know what is happening to Christians in Pakistan Please watch the video down below.
The Christian human rights activist, George Naz delivers a message to the Muslims of Pakistan; "You burn my Bible every day. You destroy my Cross every day. You burn my Christian brothers and sisters alive on daily basis. Let´s not forget Gojra´s incident. The Christian residence premises in Joseph Colony Lahore were burnt. Church in Peshawar was attacked. Shanti Nagar´s incident as well. How many more such incidents shall we talk about? You are being so cruel with us by burning our Bibles and Cross.
A Christian couple was burnt alive in Kot Radha Kishan. 3 lives were snatched as the woman was pregnant. It is often said that Christians in Pakistan are safe and face no problems at all. This is the real condition of Christians. And this is what our Muslim brothers are doing to us. Until when we shall be oppressed? For God´s sake please do something for us."
**************************************************