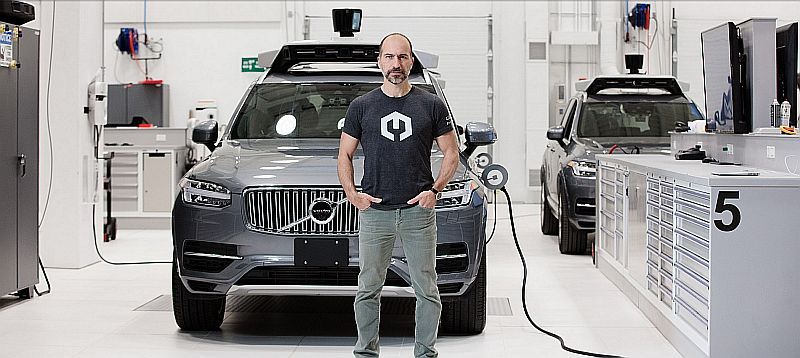 CEO Dara Khosrowshahi is a champion of everything Uber once rejected: caution, discipline, and tact. Can he reform Silicon Valley's most audacious company?
In the late

1950s, a weapons maker called the Martin Company received a contract to build the first Pershing missile. It was to be the most sophisticated mobile weapons system on earth: 5 tons of metal and precision technology designed to deliver a nuclear warhead from up to 460 miles away. Should it ever be used, there would be no margin for error. It had to be perfect. And the US Army wanted it delivered quickly.

The task of ensuring this timely perfection fell to Philip Crosby, a quality-control manager at Martin. To break with his industry's wartime habit of tolerating small mistakes in feverish production, Crosby came up with a philosophy he would later call Zero Defects. The idea was, basically, to instill in workers the will to prevent problems during design and manufacture rather than go back and fix them later. Crosby's philosophy went on to become a management buzzword, especially in the aerospace and auto industries, where a faulty gasket or a weak bearing could mean a fiery catastrophe. During the Apollo program, NASA even gave out little Zero Defects trophies—each one a cute pewter spaceman standing on the moon with the letters "ZD" emblazoned on his chest.

"I'm a big believer in the Zero Defects strategy," said Dara Khosrowshahi, the CEO of Uber. It was an overcast day in January, and Khosrowshahi leaned back in a chair at Uber's San Francisco headquarters. Khosrowshahi had been running Uber for four months at that point. He'd left a stable perch at Expedia, the travel-­booking service, to take over a company that had become synonymous with scandal and rule-breaking excess. And, having doused some of the raging fires left behind by his predecessor, Travis Kalanick, Khosrowshahi had determined that what Uber needed most was a quality-control philosophy borrowed from the middle of the last century.

This was, it must be said, a bit weird. Tech companies tend to celebrate the inverse of Zero Defects. Push out new code, experiment, screw things up, and fix them. "Move fast and break things," as Mark Zuckerberg famously said in the early days of Facebook. And arguably, few companies have moved faster and broken more things than Uber.
In just nine years, Kalanick's company grew from a vague notion that anyone should be able to summon a ride from their phone into a business valued at $54 billion and available in more than 600 cities on six continents. And it kept adding new services: Today Uber can facilitate a carpool to work and deliver your Dos Toros burritos so they're still hot when they reach your table. Not satisfied with merely replacing taxis, Kalanick's Uber began developing autonomous cars and trucks and even set up a skunkworks for flying electric cars. Along the way, the company left a trail of wreckage. It disregarded and even undermined laws and regulations; it squandered the loyalty of its drivers, who felt mistreated under its contractor system; and it became notorious for a workplace culture that exemplified the worst tendencies of the Silicon Valley bro. By the time investors moved to demand Kalanick's resignation in June 2017, observers were calling Uber the world's most dysfunctional startup.
But where others saw Uber's travails as a symbol of Silicon Valley comeuppance, Khosrowshahi saw something less loaded: a sophisticated tech company that had taken on too much, too quickly, and whose systems groaned under the weight and confusion. Growth, not quality, had been its guiding principle for too long, he said.
Khosrowshahi, 48, has a neatly trimmed salt-and-pepper beard. On that day in January, he wore a long-sleeved black crewneck sweater, black pants, loafers, and brightly colored striped socks. In contrast to Kala­nick, who is an inveterate pacer, he sat very still with his ankle crossed over his knee. Khosrowshahi's vision for Uber, as he relayed it, was to ask people to do their jobs correctly every single day. "It's a game of inches," he said.
At the time, Khosrowshahi was referring to the need to fix small-bore things—a rider has to wait a few minutes longer than the app promised, a driver can't get help with a technical issue—that add up to larger reputational problems. Then, in mid-March, came a true catastrophe. An Uber car operating in self-driving mode struck and killed a woman crossing the street in Tempe, Arizona. Within a few hours, the company announced that it was suspending its testing of driverless vehicles. When this article went to press, there was no official answer as to what had gone wrong, or whether quality controls would have made a difference. But suddenly, getting things right, every single time, seemed a lot more consequential.
The story of Uber is so well known now that it feels almost like a parable: Kalanick, a reader of Ayn Rand and self-styled badass, teamed up with a friend to start a service that would help their buddies get around San Francisco "like ballers." Uber blasted through every expectation to become a new genre of company, inspiring a bonanza of "Like Uber, but for X" clones (along with direct competitors like Lyft and, in China, Didi). The company came to embody a culture in which almost anything was acceptable. In a 2013 email instructing employees not to party too hard during a retreat in Miami, Kalanick summed up the ethos: "We do not have a budget to bail anyone out of jail. Don't be that guy. #clm"— internet slang for "career limiting move." The subtext: Your career won't be limited by bad behavior, so long as it stops short of arrest.
Kalanick also fostered an undercurrent of paranoia and suspicion in the ranks. He had architects design difficult-to-find conference rooms at the end of dead-end hallways. The glass partitions were often covered over with paper, and inside small groups of people worked, empowered to launch new projects that no one else at the company knew about.
This cloak-and-dagger behavior extended outside the company. Richard Jacobs, a former Uber security employee, asserted that in 2016 the company hacked into competitors' networks, impersonated riders on their platforms, secretly recorded people, and communicated internally using the encrypted Wickr app "for the express purpose of destroying evidence of illegal or unethical practices," as Jacobs' lawyer wrote in a letter in May of last year. (Uber says it hasn't substantiated those claims but intends to "compete honestly and fairly" going forward.)
To Kalanick, any outward display of insecurity was a liability. He didn't show it, nor did he tolerate it in others. He ran toward conflict, an attitude that helped the company push into new markets, and inspired staffers to put in long hours. But when Uber began to enter a tailspin—as it did precipitously in early 2017—this approach no longer conveyed authority.
The final unraveling of Kalanick's reign started the week after Donald Trump was inaugurated as president. On January 27, Trump signed an executive order barring people from seven predominantly Muslim countries from entering the United States. Protests sprang up all over, and New York City taxi drivers went on a one-hour work stoppage at JFK Airport to protest the ban. Uber, however, kept its drivers on the road, fueling the perception that the company was profiteering. A #deleteuber social media campaign went viral, and more than 200,000 people wiped out their accounts.
Things got much worse from there. In February a former Uber engineer named Susan Fowler published a blog post alleging that her manager had propositioned her and that, when she complained to human resources, the company not only failed to act but lied to her and other women about his history of transgressions. The company, she wrote, defended the harasser as a "high performer."
Just days later, another crisis hit. Waymo, the self-driving division of Alphabet, ­Google's parent company, filed a suit against Uber, charging that the company had stolen trade secrets and technology. Then, in March, The New York Times revealed that Uber had used a secret software tool to circumvent government inspections. That same week, a video surfaced in which Kalanick sat, legs splayed, between two female companions in the back of an upscale Uber Black car. When he berated the driver, he didn't come off as powerful. He came off as an asshole.
By then, Uber was in full-on crisis, and it didn't have systems in place to fix itself. For six months there had been no head of human resources. Liane Hornsey, who'd worked at Google in its fast-growth days, finally came aboard in January, just three weeks before Fowler published her post. Hornsey remembers attending her first all-hands meeting the next Tuesday. It was then that she realized the enormity of the task ahead. As Kalanick—the guy who'd referred to his startup in a 2014 GQ article as "Boob-er," for the way it delivered women to him on demand—promised that things would get better, she watched a range of emotions play across employees' faces from her seat on the stage. "There were people crying," she recalls.
In the following weeks, Hornsey held listening groups. Many people began reporting their own mistreatment, while others defended Kalanick. Hornsey received 215 complaints about sexual harassment, discrimination, bullying, or retaliation. More than 20 people lost their jobs.
As scandal and reports of feuding between Kalanick and his board surfaced in the press, the company's midlevel managers struggled to hold together what's known at Uber as "the marketplace"—the network of drivers and riders, as mediated by the company's technology. Daniel Graf, who worked in the product division, recalled "nonstop fire drills" during this period. His team knew the problem: The Uber app's technological foundation needed an overhaul. Because the company had built its tech for a smaller service and added to it rapidly as Uber expanded, it had to be fortified and rebuilt. Meanwhile, the senior managers kept disappearing. Kalanick asked Graf to head the product division after his predecessor resigned abruptly. Then, on June 20, after a long battle with investors on his board, Kalanick resigned."I had three bosses in one week," Graf said. It was a destabilizing time.
Both Hornsey and Graf were named to a 14-person executive leadership team that ran the company while the board looked for a new CEO. Some, like Hornsey, were new. Others, like Graf, had been promoted when their bosses left or were fired. Among them were a vocal group of Kalanick supporters, who felt that even if he had been a belligerent jerk, his vision was essential to Uber's future. Most knew little about any part of the company other than their own.
There was nothing glamorous about leading a fast-growing tech company by committee. The business was in chaos; Uber lost about 10 points in North American market share in less than a year. The team agreed that Uber was doing too much. It needed to address the basics. "We put 100 projects on pause right away," Graf remembers. One project they prioritized, however, was building a new app for drivers, codenamed Carbon.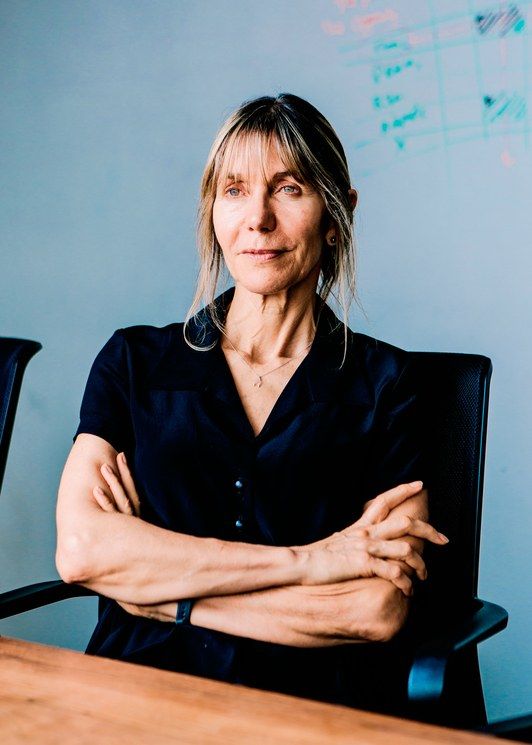 Of all those Uber has managed to anger—regulators, cabbies, riders—it has done worst by its own drivers. Treated as contractors, not employees, drivers have complained that they can't make enough money under Uber's pricing system. They have protested the service's constantly changing rules. They've been frustrated when no one at Uber has helped to resolve problems quickly. At best, Kalanick seemed to ignore them, and at worst he intimated they'd be eventually replaced by autonomous vehicles.
By the start of 2017, the company recognized it had a problem. Only a quarter of the people who'd signed up to drive for Uber were still doing so a year later, according to news reports. Uber hadn't made it easy for them. It hadn't overhauled its driver app since 2015, and in that time it had added new services like Eats, in which drivers deliver food. To find their way, drivers had to switch back and forth between Uber and mapping apps like Waze, creating friction and frustration. Anything that goes wrong—a rider is standing on the other side of a busy intersection, say, or a carpool rider asks for a different drop-off spot—costs time, which is money.
The goal of Carbon—the new driver app—was to foster a perfectly efficient ride that would reduce the chance a driver would also drive for Lyft. But there was no way to roll out a driver app quickly, or even sort of fast. As Graf had found, the technology under­lying the app needed a total rebuild.
There was also much more to address beyond building a sturdy tech foundation. To achieve maximum efficiency, Uber needed to create a map of a constantly changing world exactly as it exists in any given moment. A garbage truck is blocking a lane. There's road work. A fender bender stops traffic for half an hour. All of these things can slow a driver down. And Uber provides rides in real time. Order a package on Amazon and you hope it'll arrive tomorrow. Order a ride on Uber and you hope it's already here.
With newer food delivery and also carpooling services, the challenges grow exponentially. Say a driver is delivering a burger. How do they locate an apartment on the seventh floor of one of several buildings in an apartment complex? Where do they leave the car while making the drop-off? The challenge of simply locating customers in three-­dimensional space is huge.
Consider the blue dot that signals where you are when you open the app as a rider. If you've been using Uber for a while, you've probably noticed that the placement of that blue dot is more accurate than it used to be. But it still often locates you pretty far from where you are in real life, particularly when you're in a dense city. Uber— or, more specifically, Danny Iland and Andrew Irish, whose startup, ShadowMaps, was bought by Uber in 2016—are working on that gnarly problem.
Mapping services typically use the government-owned Global Positioning System, but GPS, Iland explains, was designed for things that fly or sail. Buildings can block your phone from receiving satellite signals, which can cause your phone to misidentify your location. Uber, along with many other mapping companies, has tried to solve this problem through map-­matching, which combines GPS data with mapping software from a number of sources to guess your location. But it's far from perfect.
Iland and Irish, who were PhD students at UC Santa Barbara when they started Shadow­Maps, use a different process. They superimpose the signals your phone is picking up against a 3-D map—a technique called occlusion modeling—so they can see which signals are coming from satellites that have you in their direct line of sight. They combine the data points from those satellites to make a more accurate guess about your location. The process can even correctly identify whether you're on the south or north side of the street.
This is just one of the technologies Uber is developing to improve maps and navigation. Another uses digital imagery to improve the accuracy of a driver's estimated time of arrival. A different team is trying to improve the navigation system for drivers.
Carbon needed to combine these efforts elegantly, a process that would take at least 18 months. But in 2017, as competitors tried to lure Uber's disgruntled drivers to their services, the company began introducing a series of small changes that drivers wanted. Riders could now tip, and drivers could organize their lives a bit better by setting in advance a general location for a few pickups each day, a feature known as Star Power. Uber also provided a phone line so drivers could speak to a customer service rep rather than sending urgent emails into the ether.
These changes bought Uber some time to build and test Carbon, but also introduced glitches. Over the summer, the new features had altered the delicate balance of demand and supply, so that riders were waiting slightly longer for pickups in some markets. At first it was hard to tell which features were responsible. Then, in August, the company put out a Star Power update that let drivers choose six daily destinations. If a driver wanted to, say, end up near their child's school around 3 pm, they could request a trip in that direction. It was such a good idea that too many drivers used it. Gradually it became obvious that allowing drivers to choose so many daily destinations was the problem.
The Star Power update came in the same month that Khosrowshahi was named Uber's CEO. He leaned on the product team to solve the wait-time problem.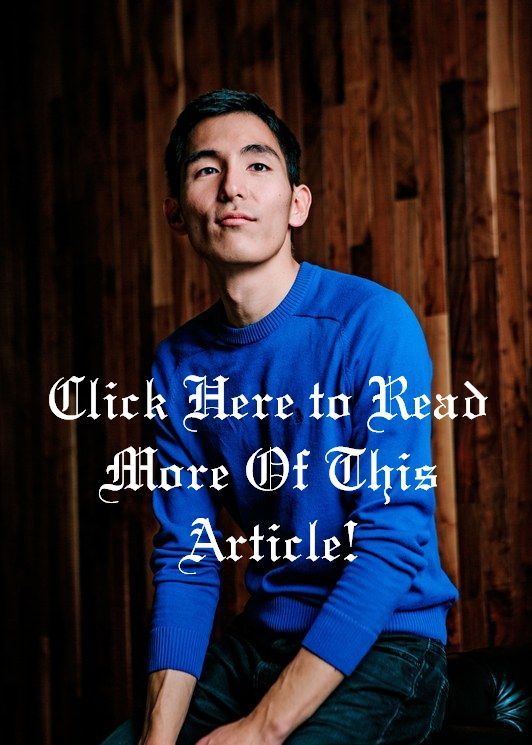 ---