Written by  Michael Matt | Editor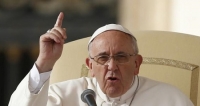 "If Pope Francis would ditch his habit of insulting faithful millennials, Hahn writes, he might begin to see more of them in the pews."
In a December 5, 2016 article by, Nicholas G. Hahn III , The Detroit News sounds positively Remnant-esque:
Millennials are leaving religion in droves, recent surveys find. Churches are roiled, but it appears Pope Francis isn't worried he may accelerate the exodus.

The "Who am I to judge?" pope recently told an interviewer that he has a hard time understanding why so many young Catholics worship in Latin on Sundays. "Why so much rigidity," Francis asked. "This rigidity always hides something, insecurity or even something else."

That represents an ugly departure from his predecessor, Benedict XVI, who allowed for wider use of the pre-Vatican II Mass in 2007. "What earlier generations held as sacred, remains sacred and great for us too," the pope emeritus wrote, "and it cannot be all of a sudden entirely forbidden or even considered harmful."

Then only a little over 200 Latin Masses were celebrated in the United States. That number has since more than doubled. The Massgoers aren't a bunch of old anoraks, either. It's millennials and hipsters who tend to prefer the smells and bells. READ ARTICLE HERE
REMNANT COMMENT: Mr. Hahn concludes with, "But if Francis would ditch his habit of insulting faithful millennials, he might begin to see more of them in the pews." And that pretty much nails it. If Pope Francis the Humble would stop insulting, not just millennials, but everyone with whom he disagrees—and that seems to constitute most of the practicing Catholic world—maybe he wouldn't be sliding quite so dramatically in the popularity department.
As it is, Francis remains popular only with the same 'basket of deplorables' that thought Hillary Clinton was great—the UN, Nancy Pelosi-type 'Catholics', CNN and the rest of the Far-Left.
But Hillary Clinton's 'wild popularity' in the real world was mostly illusory, a media creation, just as Pope Francis's popularity is turning out to be. People have had enough, as today's story in The Detroit News illustrates yet again.
So now maybe we can all start praying for Pope Francis as we should have been doing all along, rather than trying to make him into something he's not—a great pope. In fact, he's the worst pope in history and desperately needs the prayers of his subjects who are growing increasingly alarmed by his pontificate.
Michael Matt has been an editor of The Remnant since 1990. Since 1994, he has been the newspaper's editor. A graduate of Christendom College, Michael Matt has written hundreds of articles on the state of the Church and the modern world. He is the host of The Remnant Underground and Remnant TV's The Remnant Forum. He's been U.S. Coordinator for Notre Dame de Chrétienté in Paris–the organization responsible for the Pentecost Pilgrimage to Chartres, France–since 2000.  Mr. Matt has led the U.S. contingent on the Pilgrimage to Chartres for the last 24 years. He is a lecturer for the Roman Forum's Summer Symposium in Gardone Riviera, Italy. He is the author of Christian Fables, Legends of Christmas and Gods of Wasteland (Fifty Years of Rock 'n' Roll) and regularly delivers addresses and conferences to Catholic groups about the Mass, home-schooling, and the culture question. Together with his wife, Carol Lynn and their seven children, Mr. Matt currently resides in St. Paul, Minnesota.
Latest from Michael Matt | Editor